New Research Project: MusCoDA – Musical Communities in the (Post)Digital Age (2020-2024)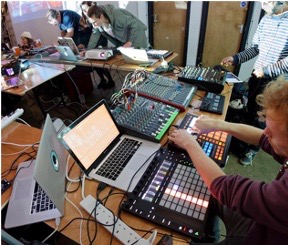 In digitally networked collectives, creative self directed learning and educational practices are part of everyday life. Music education takes up such practices, for example in the form of collective songwriting, and ascribes them many positive effects. Musical practice with digital technologies creates identity, ensures participation, democratization, collaboration, creativity and self-learning, and thus promotes not only musical skills, but education as a whole. In contrast, there is a nationally sparse and internationally scattered research landscape and the observation that digital innovations in informal artistic contexts are now often met with a post-digital hybridization of digital and non-digital practices. In this phase of advanced digitization, the joint project between the University of Erfurt (UE) and Clara Hoffbauer Potsdam University of Applied Sciences (FHCHP) is investigating songwriting processes as an example of collective creativity in (post)digital communities. Starting with music lessons in schools (UE) on the one hand and informal bands (FHCHP) on the other hand, collaborative and cooperative learning in divergent educational contexts will be researched. The interplay of informal and formal self-learning processes in digitally networked communities will be reconstructed, the respective constitutive role of digital and analog technologies identified and design principles for future informal-formal educational practices derived.
The research proposal was submitted by Marc Godau, Matthias Haenisch and Verena Weidner. The project will run from 2020 to 2024 and is funded by the Federal Ministry of Education and Research.
Photo: © Matthias Haenisch